Karl Maria Wiligut is officially retired from the SS, his 'application' for retirement on the grounds of ill-health having been granted in February 1939.
Wiligut, known within the SS as Weisthor, was a protégé of Heinrich Himmler's. The Reichsfuhrer SS was deeply interested in cults and the occult, a fascination that he preferred to keep from both the public and Hitler, who was dismissive of Himmler's interests. In August 1935 Goebbels recorded a comment of Hitler's
'Rosenberg, Himmler & Darré have to stop their cultic nonsense'

[i]
Wiligut was able to play on Himmler's credulousness to establish his position in the SS.
Wiligut had been an Austrian army officer, who was part of the Viennese v
ö
lkisch circles prior to the Great War. His book Seyfried's Runes was published in1903. After the war he acquired a reputation as an extreme anti-Semitic and edited a periodical criticising Jews, Christians and Freemasons. Wiligut was violent at home and displayed improper physical affection towards his daughters. In November 1924 Wiligut was committed by his wife to a Salzburg institution for three years. He was diagnosed with schizophrenia, megalomania and paranoid delusions. The following year Wiligut was legally incapacitated.
Wiligut, by now calling himself Weisthor (Wise Thor) joined the SS in 1932. Wiligut was involved in Himmler's decision to put the ancient castle of Wewelsburg, near Paderborn, to use as an education centre for the SS. Wiligut informed Himmler that Westphalia was said by local legend to be the future site of an apocalyptic battle between East and West, which appealed to the romantic in Himmler. A labour camp was set up outside the castle and millions of Reichsmarks were spent on the works transforming the castle to fit in with Himmler's delusions.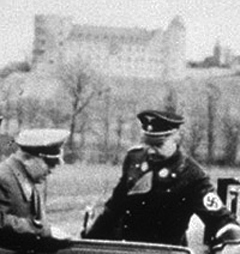 In October 1934 Himmler made the 66 year old Wiligut director of the Race and Main Settlement Office archives. Wiligut devised many of the SS ceremonies designed to oust the religious ceremonies used by Christians. He also designed the Yule lights given out instead of Christmas gifts and the Death's Head ring, a much coveted award solely in Himmler's gift.
In January 1936 he was given responsibility for special commissions. Wiligut claimed to be able to make contact with his ancestors and access occult information. This suited the gullible Himmler, who had Wiligut prepare articles on history and prehistory and religious questions. Wiligut suggested that Himmler introduce an ancient Germanic religion into Germany.
Wolff and Himmler at Wewelsburg
In November 1938 Obergruppenfuhrer Karl Wolff visited Frau Wiligut and was informed of Wiligut's mental health problems. On 28th August 1939 Brigadefuhrer Weisthor was retired from the SS. His Death's Head ring had to be returned, but was kept by Himmler in his strong room.
The connection was not entirely broken off as in the summer of 1940 Himmler had Wiligut advise him on the design of an emblem for the SS dead fallen in battle. Himmler was still in contact with Wiligut in November 1941 when the two met for lunch in Berlin. The SS provided Wiligut with a housekeeper/companion and accommodation, in an SS guest house in Carinthia, until the end of the regime. Wiligut died of a heart attack in January 1946.
Heinrich Himmler – Martin Månsson, Schiffer Military History 2001
Heinrich Himmler – Peter Longerich, Oxford University Press 2012
The SS – A New History – Adrian Weale, Little Brown 2010
Hitler the Policies of Seduction – Rainer Zitelmann, London House 1999
---